Back
---
What is IoT?
IoT stands for Internet of Things and it is the network of physical devices like home appliances, machinery, vehicles and healthcare equipment etc. embedded with software and sensors which are capable of communicating and exchanging data with each other using network connectivity.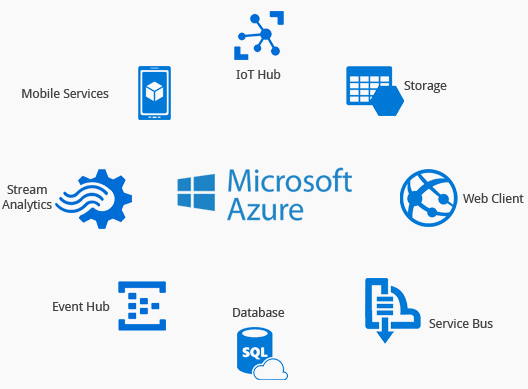 Microsoft IoT:
As IoT continues to transform businesses by providing breakthrough insights and capabilities, Microsoft IoT is helping the businesses in unleashing the potential of IoT by providing its best in class services like cloud, business intelligence, data analytics tools, and operating systems.
Why Microsoft IoT?
Microsoft IoT offers a comprehensive portfolio of finding the products, services, and solutions that make most of IoT business opportunities across devices, cloud, analytical capabilities, and business systems. It delivers a flexible, scalable solution that adapts to the business needs and processes of a customer's existing infrastructure such that bringing IoT to any device and any platform. Microsoft IoT provides end-to-end solutions which are driven by digital transformation and helps its customers in making informed decisions, optimizing the operations, reducing costs thereby aiding to create new revenue streams.
Microsoft IoT Products:
Microsoft IoT offers a wide range of products in order to meet the customer requirements like,
Azure IoT Edge- offers next level IoT solutions that extend cloud intelligence to edge devices like routers and routing switches etc.
Azure IoT Suite- integrates existing devices and systems with IoT solutions that can be customized to the customer specific needs.
Cortana Intelligence Suite- transforms the data into actionable insight and builds smarter applications with cloud-based big data and advanced analytics.
Microsoft IoT Central- takes the complexity out of IoT with an end-to-end cloud solution and helps to configure build, use, and maintain smart products.
Windows 10 IoT- simplifies IoT by powering smart devices that bring intelligence to the edge and the cloud for deeper insight etc.
Microsoft IoT in the Industry:
Microsoft IoT with its distinctive features and ultimate range of products has become popular in the market and has diversified its services to various domains including,
Healthcare
Manufacturing
Natural Resources
Retail
Smart City
Transportation
Healthcare
Microsoft IoT in the healthcare domain transforms the care and treatment of patients, equipment maintenance, and the way the hospital operates with the security and innovation of IoT healthcare solutions.
Manufacturing
In the Manufacturing industry, it transforms the products the way they are produced by reducing downtime, energy consumption and increases the revenue using IoT manufacturing solutions.
Natural Resources
Using IoT in this domain it is possible to monitor the environmental conditions and usage of the natural resources like oil, water and gas and thereby improving the quality of the energy that empowers everyday lives.
Retail
Microsoft IoT in the retail domain enhances the customer experience by using IoT retail solutions pertaining to the sectors like food service, hospitality, supermarkets and retail stores etc.
Smart City
In this domain, Microsoft IoT helps in creating safer and more efficient cities by transforming infrastructures, buildings, and services and also helps to optimize the energy consumption.
Transportation
In the transportation domain, Microsoft IoT is aiding in creating smarter, safer more efficient ways to keep things moving. Transport tracking and monitoring the assets was also made possible while managing the fleet from across the world.
Microsoft IoT in Trend:
Johnson Controls (JCI), a US-based HVAC company's product namely Smart GLAS thermostat uses Microsoft IoT to easily create a comfortable, cost-saving solution to reduce high energy bills. It also features Cortana, which enables users to give voice-activated commands to change temperatures, manage online calendars, and check traffic and more.
In Sweden, the apartments are transforming into smart buildings with IoT makeover that provides a way to make apartments more efficient, conserve natural resources, save money and thus making the country becoming a world leader in renewable energy and sustainability
BTT Corp., an innovative medical technology company and leader in brain thermodynamics, developed a system that measures the brain's thermodynamic signals and generates a massive amount of data that can be used to identify specific brain-related diseases using Microsoft Internet of Things (IoT) technology.
In India, the Ganges river which is polluted with all manner of contaminants like plastic bottles, sewage and industrial waste, the cleaning up process was started with the help from Microsoft IoT that provides a real-time system that can clearly see which areas of the river are experiencing the most pollution and also made the way to impose hefty fines on industries that cross the established thresholds of water quality levels.
Esri, an enterprise mapping, and Geographic Information System (GIS) technology leader, also intends to join Azure Location Based Services to provide business customers with a complete set of location data management, digital mapping, and geographic analytics, provided through Esri's ArcGIS suite and developer APIs.
Elizabeth Glaser Pediatric AIDS Foundation (EGPAF), a non-profit organization is using powerful Business Intelligence (BI) and analytics tools from Microsoft for finding new ways to use the data which is visually appealing and able to generate reports in order to communicate with donors, government partners, and other important audiences in the drive to achieve an AIDS-free generation.